367 Main Street, Hyannis , MA. 02601
Citizens Academy
The nineteenth session of Inside Barnstable Town Government,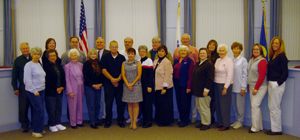 A Citizens Leadership Academy will begin January 29, 2013. The academy is an 11-week commitment with the goal of educating the citizens of Barnstable about the operations of town government, while also obtaining valuable feedback and participation from those citizens participating in the Academy. The program is designed to advance understanding of and participation in civic affairs as well as to increase awareness of the challenges facing municipal government.

The classes will be on Tuesday evenings from 6:30-9:00 pm and will be held in various locations throughout the Town. The Academy also includes a bus tour of the seven villages. The classes will be conducted by Town staff and provide interactive learning experiences, group discussions, and site tours. The program is free of charge and class size is limited. Please register early to avoid the waiting list.

Applications are available at the Town Manager's Office, 367 Main Street, Hyannis or online at www.town.barnstable.ma.us. To receive an application by mail or fax, please call 508-862-4610. For specific information, you may call either of the Academy facilitators: Susan French (508-362-2864) or Meg Loughran (508-362-5490).

Blogging Inside Barnstable Town Government

Please complete APPLICATION

Return application to:
Thomas K. Lynch , Town Manager
Town Manager's Office, 367 Main St.
Hyannis, MA 02601
Contact
Town Manager
Thomas K. Lynch
Assistant Town Manager
Mark Ells
P 508-862-4610
F 508-790-6226
8:30 a.m.to 4:30 p.m.