Town Council
AGENDA NOTICE - APRIL 17
Barnstable Residents – The Town Council Agenda for April 17, 2014 contains numerous items for action. It is anticipated that the Town Council will not act on these scheduled items on April 17, but will refer these items to public hearings on the agenda of the May 1, 2014 regularly scheduled meeting: 2014-082 through 2014-091, 2014-124, and 2014-125.
Additionally, anticipated legislative items concerning private roads are expected to appear on the May 1, 2014 meeting agenda.
Jessica Rapp Grassetti, President
Barnstable Town Council
The Barnstable Town Council, a thirteen member elected body is the legislative and policy-making branch of town government. The council develops, adopts and enacts policies and ordinances, which it believes promote and enhance the general welfare of the town. Meetings are held bi-monthly except in the months of July and August when only one meeting is held or when a special meeting is called.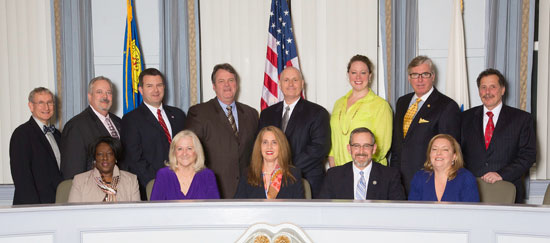 2014 TOWN COUNCIL
Standing: Paul Hebert, Precinct 3; Will Crocker, Jr., Precinct 6; Eric R. Steinhilber, Precinct 2; James Crocker, Precinct 5; John Norman, Precinct 12; Sara Cushing, Precinct 10; Phil Wallace, Precinct 11; Fred Chirigotis, Precinct 4. Seated: Debra Dagwan, Precinct 8; Council Vice President Ann Canedy, Precinct 1; Council President Jessica Rapp Grassetti, Precinct 7; James Tinsley, Precinct 9; Jen Cullum, Precinct 13




Next Meeting:

Tuesday, April 22, 2014

1/2/2014
07:00 PM
Canceled Canceled Town Council Meeting
Hearing Room
Agenda |
1/16/2014
07:00 PM
Town Council Meeting and Workshop w School Committee budget coordination
Hearing Room
Agenda | Minutes |
2/3/2014
05:30 PM
Town Council Roads Subcommittee Meeting
Selectmens Conf Public

2/6/2014
07:00 PM
Town Council Meeting
Hearing Room
Agenda | Minutes |
2/27/2014
07:00 PM
Town Council Meeting
Hearing Room
Agenda | Minutes |
3/6/2014
07:00 PM
Town Council Meeting
Hearing Room
Agenda | Minutes |
3/20/2014
07:00 PM
Town Council Meeting
Hearing Room
Agenda |
3/24/2014
05:30 PM
Town Council Roads Sub Committee
Selectmens Conference Room

3/31/2014
05:30 PM
Town Council Roads Sub Committee
Hearing Room

4/3/2014
07:00 PM
Town Council Meeting
Hearing Room
Agenda |
4/17/2014
07:00 PM
Town Council Meeting
Hearing Room
Agenda |

Next Meeting


4/22/2014
05:30 PM
Town Council Roads Sub Committee
Selectmens Conference Room

5/15/2014
07:00 PM
Town Council Meeting
Hearing Room

6/5/2014
07:00 PM
Town Council Meeting
Hearing Room

7/17/2014
07:00 PM
Town Council Meeting
Hearing Room

8/7/2014
07:00 PM
Town Council Meeting
Hearing Room

9/4/2014
07:00 PM
Town Council Meeting
Hearing Room

9/18/2014
07:00 PM
Town Council Meeting
Hearing Room

10/2/2014
07:00 PM
Town Council Meeting
Hearing Room

10/16/2014
07:00 PM
Town Council Meeting
Hearing Room

11/6/2014
07:00 PM
Town Council Meeting
Hearing Room

11/20/2014
07:00 PM
Town Council Meeting
Hearing Room

12/4/2014
07:00 PM
Town Council Meeting
Hearing Room

12/18/2014
07:00 PM
Town Council Meeting
Hearing Room

Contact
Precinct: 1
Ann B. Canedy
Council Vice President
Term:
2015
Box 23
Cummaquid, MA 02637
Phone:
508-362-4561
Email
Precinct: 2
Eric R. Steinhilber
Councillor
Term:
2017
PO Box 974
Barnstable, MA 02630
Phone:
508-217-4501
Email
Precinct: 3

Paul Hebert
Councillor
Term:
2015
142 Strawberry Hill Road
Centerville, MA 02632
Phone:
508-778-0568
Email
Precinct: 4
Frederick Chirigotis
Councillor
Term:
2017
367 Main Street
Hyannis, MA 02601
Phone:
508-862-4738
Email
Precinct: 5

James H. Crocker, Jr.
Councillor
Term:
2015
PO Box 496
Osterville, MA 02655
Phone:
508-428-8800
Email
Precinct: 6

William Crocker, Jr.
Councillor
Term:
2017
50 Birchill Road
Centerville, MA 02632
Phone:
508-737-5744
Email
Hours:
Centerville Library, 1st Tuesday, 4:30 - 5:30 pm
Precinct: 7
Jessica Rapp Grassetti
Council President
Term:
2015
PO Box 1310
Cotuit, MA 02635
Phone:
508-360-2504
Email
Hours:
Cotuit Library, 2nd Wednesday, 3:00 - 5:00 pm
Precinct: 8
Debra S. Dagwan
Councillor
Term:
2017
PO Box 897
Hyannis, MA 02601
Phone:
508-778-6824
Email
Precinct: 9

James M. Tinsley
Councillor
Term:
2015
12 Grove Street
Hyannis, MA 02601
Phone:
508-237-9226
Email
Precinct: 10

Sara Cushing
Councillor
Term:
2017
PO Box 1539
Marstons Mills, MA 02648
Phone:
617-686-6586
Email
Hours:
Marstons Mills Library, 2nd Saturday, 9:00 - 10:00 am
Precinct: 11

Philip Wallace
Councillor
Term:
2015
PO Box 519
West Barnstable, MA 02668
Phone:
508-280-1085
Email
Precinct: 12

John T. Norman
Councillor
Term:
2017
PO Box 1494
Marstons Mills, MA 02648
Phone:
508-566-9351
Email
Precinct: 13

Jennifer L. Cullum
Councillor
Term:
2015
327 Sea Street
Hyannis, MA 02601
Phone:
617-276-4977
Email